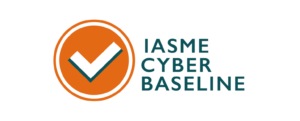 The IASME Cyber Baseline is a new cyber certification scheme provided by IASME which is purely aimed at non-UK registered based businesses. This certification helps international businesses achieve the basic requirements for cyber based protection, like Cyber Essentials does for UK companies.  The IASME Cyber Baseline standard leads the way to offer global supply chains a standardised and respected certification to show that organisations have the critical cyber hygiene measures in place.
Like the IASME Cyber Assurance scheme, the Cyber Baseline certification will come in two-levels, the self-assessment for Level 1, and the audited version for Level 2.
Although a new standard, the IASME Cyber Baseline maps to several international cyber hygiene standards and best practices, which allows you as a business to adhere to several standards with one certification.
The IASME Cyber Baseline certification is based upon 8 of the 13 themes from the IASME standard, these are:
Organisation
Assets
Secure architecture
People
Managing access
Technical intrusion
Back-up and restore
Resilience
Certification Benefits
Protect your organisation, data and customers against mass automated attacks from the internet
Demonstrate that your organisation aligns with global cyber hygiene and cyber security frameworks* (*such as Cobit, CIS Controls v8)
Take the first important step towards IASME Cyber Assurance certification which will open doors to procurement frameworks, allowing your organisation to compete for contracts
The certification is made up of 8 themes which are part of the IASME Standard, which allows the scheme to be implemented by companies of all sizes and sector. As organisations increase their maturity, they may choose to continue developing their security posture towards including the full 13 themes of IASME Cyber Assurance.
Costs
The pricing for the level one version is based upon the size of the business, costs are:
| | |
| --- | --- |
| Micro organisations (0-9 employees) | £300 +VAT |
| Small organisations (10-49 employees) | £400 +VAT |
| Medium organisations (50-249 employees) | £450 +VAT |
| Large organisations (250+ employees) | £500 +VAT |